International Distributors Information

China International Hardware Show 2018
Date: 10th-12nd October,2018
Venue: No.168 Yinggang East Road, Qingpu District, Shanghai China
Booth No.: 7.2 L055
Contact person: Charles Lv Mob No.: 86-13393270117

The 124th Session Canton Fair 2018
Date: Oct 15-19th October ,2018
Venue: Pazhou Complex
Booth No.: Area C Hall 15.1 G34-35, H10-11
Contact person: Linda YANG Mob No.: 86-15031760186

Sincerely invite
international distributors
to cooperate with us !
141B Non Sparking Bent Striking Wrench
141B Non Sparking Bent Striking Wrench
The 141B non sparking bent striking wrench works the same way as the 141 model. It is die-forged from copper alloy that not only gives additional strength to the structure but also helps with the ability to withstand a long time of use while delivering outstanding mechanical performance. Its spark-proof feature makes the wrench suitable for use in areas where potential flammable or explosive hazard might occur.
Usually used with a hammer, the wrench can provide large amount of torque to the large-sized hex heads of fasteners for loosening and tightening. It is able to fit in tight spaces. The griping face of the jaw is displaced to a 45 degree angle relative to the line of handle. This displacement allows the wrench to obtain larger areas for rotation. Additionally, the product conforms to the Q/ZBF-141B standard.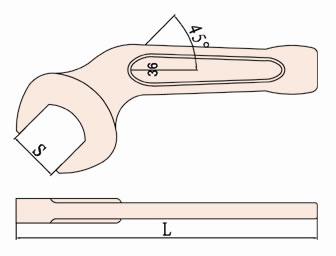 Model
S
mm
L
mm
Be-Cu
g
Al-Cu
g
141B-17
17
125
160
150
141B-19
19
125
160
150
141B-22
22
135
180
160
141B-24
24
150
245
220
141B-27
27
175
420
380
141B-30
30
190
480
440
141B-32
32
190
480
440
141B-34
34
200
600
540
141B-36
36
210
680
620
141B-38
38
230
980
800
141B-41
41
230
950
860
141B-46
46
250
1270
1150
141B-50
50
275
1380
1250
141B-55
55
305
1780
1620
141B-60
60
315
2560
2350
141B-65
65
335
3000
2750
Related Names
Sparkles Slogging Spanner Provider | Hammer Wrench in Painting Industry | Specialized Hand Tool