International Distributors Information

China International Hardware Show 2018
Date: 10th-12nd October,2018
Venue: No.168 Yinggang East Road, Qingpu District, Shanghai China
Booth No.: 7.2 L055
Contact person: Charles Lv Mob No.: 86-13393270117

The 124th Session Canton Fair 2018
Date: Oct 15-19th October ,2018
Venue: Pazhou Complex
Booth No.: Area C Hall 15.1 G34-35, H10-11
Contact person: Linda YANG Mob No.: 86-15031760186

Sincerely invite
international distributors
to cooperate with us !
157 Non Sparking Single Bent Box End Wrench
157 Non Sparking Single Bent End Box Wrench
The 157 non sparking single bent end box wrench adopts the Japanese design that provides great flexibility and aesthetic appeal. One major purpose of the box wrench is to cope with atmospheres that might incur fire or explosion. To achieve this purpose, the wrench is drop-forged from copper alloy. It is also able to get in and turn around in tight spaces where movement is limited and using straight wrench is impractical.
The wrench has a metal bar bent at one end near the socket to such a large angle that the bar will no longer interfere with adjacent bolts during its rotation. Since the drop-forging process lends extra strength to the structure, the wrench is able to withstand a long time of use and deliver stable mechanical performance at the same time. The product is manufactured in strict accordance with Japanese Industrial Standard. Therefore customers can purchase with confidence without worrying about any quality issues.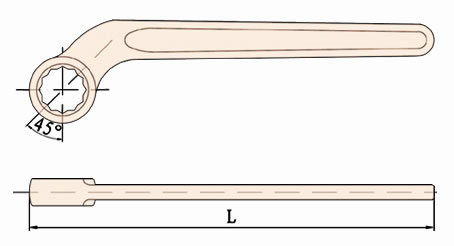 Model
S
mm
L
mm
Be-Cu
g
Al-Cu
g
157-10
10
119
60
50
157-12
12
151
85
75
157-14
14
151
85
75
157-16
16
174
150
130
157-17
17
174
160
145
157-19
19
207
195
190
157-22
22
207
205
180
157-24
24
250
330
295
157-27
27
250
315
275
157-30
30
295
480
430
157-32
32
295
455
410
157-34
34
307
650
580
157-36
36
307
650
580
157-38
38
340
830
740
157-41
41
340
810
720
157-46
46
370
1230
1100
157-50
50
400
1400
1255
157-55
55
430
1930
1720
157-60
60
450
2100
1900
157-65
65
470
2360
2135
157-70
70
490
3080
2800
157-75
75
510
3600
3250
157-80
80
530
4460
4030
Related Names
Spark Resistant Single Ring Spanner for Sale | Petroleum Industry Tool | Dangerous Environment Operating Tool