225B Non Sparking Scraper with Rock Pick
225B Non Sparking Scraper with Rock Pick
As the name implies, the 225B non sparking scraper with rock pick is a double-ended tool, with a putty knife at one end and a pick axe at the other. Its main functions are to strike the tile, break up brick, and remove putty or dirt. Precision forging process is used to refine the tool to close tolerance. Non-sparking feature of the tool almost make fire or explosion hazard impossible. Durable and long-lasting, this product has highly stable mechanical properties.
Features
1. Q/ZBF-225B standard compliant
2. Double-ended tool for double functions.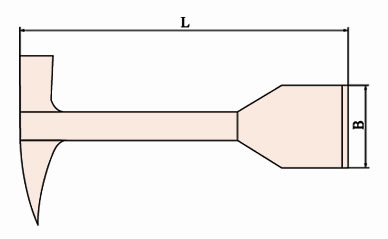 Model
L
mm
B
mm
Be-Cu
g
Al-Cu
g
225B-1002
450
75
1285
1155
Related Names
Industrial Peening and Scraping Device for Sale | Multifunction Industrial Hand Tool | Surface Dirt Removing Method