252A Non Sparking Water Pump Pliers
252A Non Sparking Water Pump Pliers
The 252A non sparking water pump pliers have the end of handle bent at a certain angle from the handle line to allow users to get a good grip. This handy tool features a drop-forged construction that is adaptable to various explosive or combustible atmospheres, an advantage where the conventional pliers are limited. The product has jaws that are adjustable to allow for various-sized mouth openings. It is most often used to hold or twist flat or circular metal parts.
Features
1. ISO2440.4 Standard compliant
2. The upper jaw is movable along the groove to adjust to the size of object being gripped, without widening the distance between the handle.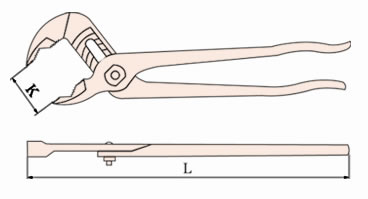 Model
L
inch
L
mm
Kmax
mm
Be-Cu
g
Al-Cu
g
252A-1002
10
250
32
325
310
252A-1004
12
300
52
665
610
Related Names
Industrial Multi-grips Manufacturer | Material Clamping Device | Hand Tool for Bending