253 Non Sparking Snipe Nose Pliers
253 Non Sparking Snipe Nose Pliers
The 253 non sparking snipe nose pliers are able to fit in tight space where it is utilized to grip small parts. Pliers with sharp blades also can be employed to cut thin metal wires. Drop forged from beryllium copper or aluminum bronze, this tool is most often used in the assembly and repair of gauges, telecommunication equipment, and electrical devices.
Features
1. ISO5745 Standard compliant
2. Used primarily for cutting wire or holding tiny components.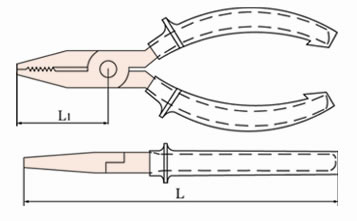 Model
L
inch
L
mm
L1
mm
Be-Cu
g
Al-Cu
g
253-1002
6
150
54
190
170
253-1004
8
200
74
335
300
Related Names
Sparkless Needle-nose Pliers Supplier | High Security Wire Bending | Cutting Tool