237 Non Sparking Triple Leg Gear Puller
237 Non Sparking Triple Leg Gear Puller
The 237 non sparking triple leg gear puller is a useful tool in areas where spark is a fire or explosion hazard. This tool is commonly used to remove bearing, replace pulleys in a belt and pulley mechanism, and demount various gears or couplings. Triple leg design not only provides for structural stability and compactness, but it is also flexible, easy to carry, and unlimited by confined spaces. Drop-forged construction presents many advantages over traditional structures in tensile strength, service life and mechanical performance. All these design and processing techniques employed in making the gear puller have reached a leading level among manufacturers in the same industry.
Work Principle
As center threaded rod is wrenched inward and outward, the jaw seat moves forward or backward relative to the gear. When the two jaws grasp the gear, operators should slightly shake the rod back and forth to allow the jaw to draw away from the shaft. In this way, the gear is pulled out from the shaft.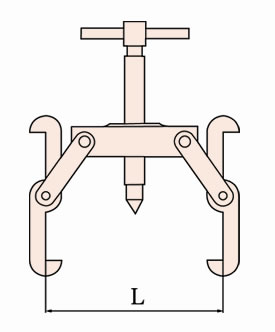 JB/T 3411.51 Standard compliant
Model
Lmax
mm
Be-Cu
g
Al-Cu
g
273-1002
100
3280
2990
273-1004
150
4050
3675
273-1006
200
5990
5430
273-1008
350
12350
11230
In addition to the above models, we also provide custom-made products based on the technical drawings provided by customers or according to customer-specific requirements.
Related Names
Gear Pulling Device Manufacturer | Safe Mechanical Equipment Repair | Tool in Industry Use