273A Non Sparking Twin Leg Gear Puller
273A Non Sparking Twin Leg Gear Puller
As a better alternative to 237 three-jaw puller, our 273A non sparking two-jaw gear puller is provided with all the functions that 237 version can offer, including bearing removal, pulley replacement, and gear or couplings disassembly. What distinguishes the 273A puller from the three-jaw puller is that the former can be used to remove non-circular parts. Its compact two-jaw design is also lightweight as well as flexible and easy to carry. This puller can be used in tight spaces where movement is limited. It can be used in a wide variety of applications, such as in the factory, shipping industry, and repair shop. Drop-forged from copper alloy, the puller shows high strength and stable mechanical performance. It is able to withstand a long time of use.
Work Principle
As the center threaded rod is tightened against the gear shaft, it applies force to the two arms or jaws as they pull the gear from the shaft.
1. JB/T 3411.51 Standard compliant
2. The puller is used to replace 3-jaw puller to cope with non-circular machine parts.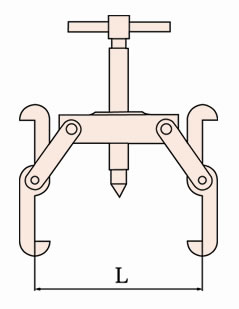 Model
Lmax
mm
Be-Cu
g
Al-Cu
g
273A-1002
100
2765
2500
273A-1004
150
3450
3120
273A-1006
200
5130
4640
273A-1008
350
10560
9545
In addition to the above product models, we also offer tailor-made products based on the technical drawings provided by customers or according to their specific requirements.
Related Names
Sparkless Gear Pulling Unit Saler | Gear Installation in Workplace | Accessory Appliance