International Distributors Information

China International Hardware Show 2018
Date: 10th-12nd October,2018
Venue: No.168 Yinggang East Road, Qingpu District, Shanghai China
Booth No.: 7.2 L055
Contact person: Charles Lv Mob No.: 86-13393270117

The 124th Session Canton Fair 2018
Date: Oct 15-19th October ,2018
Venue: Pazhou Complex
Booth No.: Area C Hall 15.1 G34-35, H10-11
Contact person: Linda YANG Mob No.: 86-15031760186

Sincerely invite
international distributors
to cooperate with us !
274A Non Sparking G Clamp
274A Non Sparking G Clamp
Our 274A non sparking G clamp is a useful tool to have in the toolbox of fitters or platers. This is made of copper alloy that has been subjected to precision forging process to attain high tensile strength, long service life and stable mechanical performance.
Features
1. The G clamp provides a maximum clamping force up to 10,000N.
2. After hardening treatment, the clamp is harder than needed and so brittle that it is easy to fracture. Following the hardening operation, the tool is usually put through tempering process to reduce its brittleness.
3. Simple structure is easy to operate.
4. Q/ZBF-274A Standard compliant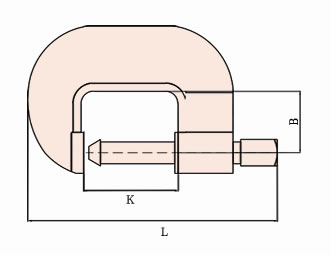 Model
L
mm
K
mm
B
mm
Be-Cu
g
Al-Cu
g
274A -1002
76
19
19
200
180
247A -1004
290
115
75
5600
5000
247A -1006
370
165
90
11100
10000
In addition to the above models, we also provide tailor-made products based on the technical drawings provided by customers or according to their specific requirements.
Related Names
Sparking Resistant C Clamp Supplier | Safe Device to Hold Workpiece | Specialized Fastening Device