194 Non Sparking Pick Axe
194 Non Sparking Pick Axe
The 194 non sparking pick axe is a specialty tool. It is specifically intended for excavation, quarrying, or road building applications to help with drilling rock, breaking up stones, and road repair.
This series of pick axe consists of a durable, sturdy fiber-reinforced handle. The handle is mounted in a way to protrude through the axe eye so that the head can never work loose over time. Precision-forged axe head presents a number of desirable features, including high tensile strength, long service life and stable mechanical performance.
Features
1. QB/T 229 compliant
2. Used for breaking up hard, rocky soil.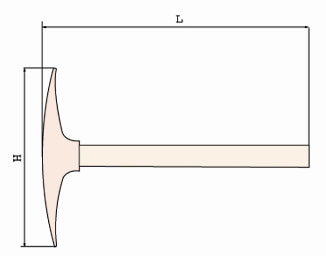 Model
Size
A
mm
L
mm
Be-Cu
g
Al-Cu
g
194-1002
1#
360
910
2100
2000
194-1004
2#
385
910
2950
2800
194-1006
3#
410
910
3385
3200
194-1008
4#
470
910
3715
3500
Related Names
Sparking Resistant Pickaxe Manufacturer | Digging Tool to Avoid Accident | Industrial Hand Tool