International Distributors Information

China International Hardware Show 2018
Date: 10th-12nd October,2018
Venue: No.168 Yinggang East Road, Qingpu District, Shanghai China
Booth No.: 7.2 L055
Contact person: Charles Lv Mob No.: 86-13393270117

The 124th Session Canton Fair 2018
Date: Oct 15-19th October ,2018
Venue: Pazhou Complex
Booth No.: Area C Hall 15.1 G34-35, H10-11
Contact person: Linda YANG Mob No.: 86-15031760186

Sincerely invite
international distributors
to cooperate with us !
237B Non Sparking Hexagonal Crowbar
237B Non Sparking Hexagonal Crowbar
The 237B non sparking hexagonal crow bar is commonly used to move, lift or pry apart heavy, clumsy objects. Its long handle design provides extra leverage, thus saving effort. Available with a hexagon handle, this tool can be safely and easily stored without rolling around. Drop-forged construction accounts for the tool's extra strength, longer use life and more stable mechanical performance.
Features
The product conforms to the Q/ZBF-237B standard.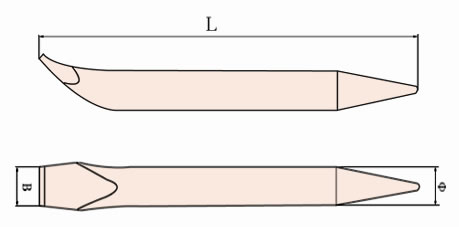 Model
L
mm
S
mm
B
mm
Be-Cu
g
Al-Cu
g
237B-1002
500
18
20
1200
1090
237B-1004
500
20
22
1450
1320
237B-1006
600
20
22
1750
1600
237B-1008
1000
22
24
3500
3200
237B-1010
1000
25
27
4500
4080
237B-1012
1500
25
27
6750
6120
237B-1014
1000
35
37
8800
8000
As well as providing the above specifications, we also can tailor-make the product according to customer specific requirements or based on the technical drawings he or she provides us with.
Related Names
Sparkless Prise Bar Manufacturer | Safe Nail Removing | Industrial Hand Tool