251 Non Sparking Groove Joint Pliers
251 Non Sparking Groove Joint Pliers
The 251 non sparking groove joint pliers are a handy tool used in various inflammable or explosive atmosphere to grip or twist flat or circular metal parts. This tool features a groove construction that allows for different sized mouth openings.
Features
1. QB/T 2440.4 compliant
2. Die forged construction
3. The upper jaw can be moved to slide through the groove that is set under the lower jaw. This design is very advantageous because the pliers can be used with different sizes of bolts, nuts, or other irregularly shaped objects, without increasing the distance in the handle.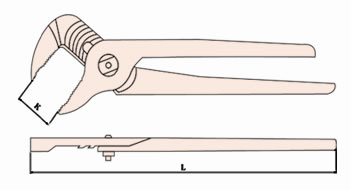 Model
L
inch
L
mm
Kmax
mm
Be-Cu
g
Al-Cu
g
251-1002
6
150
25
180
160
251-1004
10
250
45
425
370
251-1006
12
300
55
670
600
251-1008
14
350
55
850
770
Related Names
Sparkless Torque-and-groove Pliers Saler | Safe Nuts and Bolts Operation | Slip Joint Pliers