305 Non Sparking Pipe Cutter
305 Non Sparking Pipe Cutter
Our 305 non sparking pipe cutter comes in handy when pipes need to be cut. Its cutting blades can be replaced easily and with little effort. Non-sparking feature makes the cutter suited for use in hazardous areas where there are risks of fire or explosion. Precision forging process also imparts the structure many desirable features such as high tensile strength, stable mechanical performance and long use life.
Work Principle
1. This series of pipe cutter can be either hand operated or powered by a motor to perform fast, neat cutting of pipes.
2. Extra long guide sleeve is utilized to protect the threads from being damaged. Extension handle allows easy of adjustment.
Features
QB/T 2350 standard compliant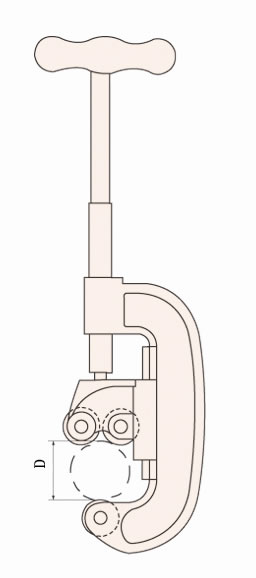 Model
D
inch
D
mm
Be-Cu
g
Al-Cu
g
305-1002
2
50
2210
2010
305-1004
3
75
4070
3700
Related Names
Sparkless Pipe Cutting Tool Supplier | Tubing Installation in Petroleum Industry | Plumber Tool