International Distributors Information

China International Hardware Show 2018
Date: 10th-12nd October,2018
Venue: No.168 Yinggang East Road, Qingpu District, Shanghai China
Booth No.: 7.2 L055
Contact person: Charles Lv Mob No.: 86-13393270117

The 124th Session Canton Fair 2018
Date: Oct 15-19th October ,2018
Venue: Pazhou Complex
Booth No.: Area C Hall 15.1 G34-35, H10-11
Contact person: Linda YANG Mob No.: 86-15031760186

Sincerely invite
international distributors
to cooperate with us !
140 Non Sparking Single Open End Wrench
140 Non Sparking Single Open End Wrench
German standard DIN894 is adopted as basis for the design of 140 spark-proof single open-end wrench. To withstand rotational torque, the jaw is designed with stiffening ribs to increase its tensile strength. Non-sparking feature reduces the risk of fire or explosion that results from intense friction between the gripping face and fastener surface.
This wrench fits hex or square heads of nuts or bolts. Its jaw face offsets 15 degree from the line of the handle. This allows a wider range of movement within the tight spaces. The product is made of copper alloy that has undergone drop forging process to obtain high tensile strength, stable mechanical property, and long service life.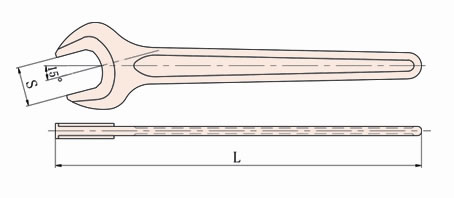 Model
S
mm
L
mm
Be-Cu
g
Al-Cu
g
140-8
8
95
40
35
140-10
10
100
50
45
140-12
12
110
65
60
140-14
14
140
95
85
140-17
17
160
105
95
140-19
19
170
130
115
140-22
22
195
170
152
140-24
24
220
190
170
140-27
27
240
285
260
140-30
30
260
320
290
140-32
32
275
400
365
140-34
34
290
455
410
140-36
36
310
530
480
140-41
41
345
615
555
140-46
46
375
950
860
140-50
50
410
1080
950
140-55
55
450
1380
1200
140-60
60
490
1950
1700
140-65
65
530
2250
2000
140-70
70
570
2850
2550
Related Names
Sparkles Open-ended Spanner for Sale | Petroleum Extraction Device | High Safety Factory Manufacturing