International Distributors Information

China International Hardware Show 2018
Date: 10th-12nd October,2018
Venue: No.168 Yinggang East Road, Qingpu District, Shanghai China
Booth No.: 7.2 L055
Contact person: Charles Lv Mob No.: 86-13393270117

The 124th Session Canton Fair 2018
Date: Oct 15-19th October ,2018
Venue: Pazhou Complex
Booth No.: Area C Hall 15.1 G34-35, H10-11
Contact person: Linda YANG Mob No.: 86-15031760186

Sincerely invite
international distributors
to cooperate with us !
151A Non Sparking Double Box End Offset Wrench
151A Non-Sparking Double Box-End Offset Wrench
The 151A spark-reduced double closed-end offset wrench has two enclosed openings on both ends. It also includes an offset handle to improve access to the nut or bolt where lack of space or clearance prevents the use of a straight wrench. The wrench is drop-forged from copper alloy to impart extra tensile strength to the structure. It is created by adopting German standard DIN838 as basis for its design.
This series of wrench is primarily used in a variety of areas where potential fire or explosion hazard might be experienced. Durable and long-lasting, the product gives stable mechanical functioning.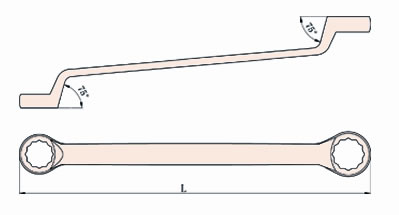 Model
S1×S2
mm
L
mm
Be-Cu
g
Al-Cu
g
151A-1719
17×19
280
180
160
151A-1922
19×22
300
210
190
151A-1924
19×24
320
320
290
151A-2123
21×23
320
370
335
151A-2224
22×24
330
420
380
151A-2427
24×27
340
480
430
151A-2730
27×30
350
530
480
151A-3032
30×32
370
690
620
151A-3236
32×36
430
1000
910
151A-3641
36×41
470
1270
1150
151A-4146
41×46
500
1580
1430
151A-4650
46×50
525
1900
1720
151A-5055
50×55
550
2850
2580
Related Names
Spark Resistant Box Ended Wrench for Sale | Mining Ring Spanner | High Torque Tool