169 Non Sparking Double C Spanner
169 Non Sparking Double C Spanner
The 169 non sparking double C spanner has one sickle-shaped wrench at each end. It is used to open or close valves. The two ends are different sized, which fit valve heads of specific sizes separately.
Drop-forged from either beryllium bronze or aluminum copper, this handy tool is suitable for use in various flammable or explosive atmospheres. It is supplied with many desirable features like great tensile strength, long use life, and stable mechanical performance. The product has passed Q/ZBF-169 certification. It is a preferred choice for many customers.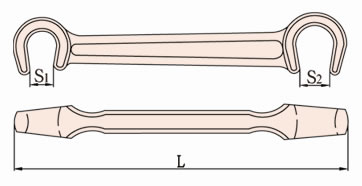 Model
L
mm
S1
mm
S2
mm
Be-Cu
g
Al-Cu
g
169-1002
200
14.5
18.5
370
335
169-1004
250
17.5
25.5
635
575
169-1006
450
25.5
34
2385
2160
As well as providing all the specifications listed above, we can make custom wrenched based on the requirements of customers or their technical drawings.
Related Names
Industrial Spanner Wrench Wholesaler | Safe Mechanical Part Installation | Tool in Oil Well