International Distributors Information

China International Hardware Show 2018
Date: 10th-12nd October,2018
Venue: No.168 Yinggang East Road, Qingpu District, Shanghai China
Booth No.: 7.2 L055
Contact person: Charles Lv Mob No.: 86-13393270117

The 124th Session Canton Fair 2018
Date: Oct 15-19th October ,2018
Venue: Pazhou Complex
Booth No.: Area C Hall 15.1 G34-35, H10-11
Contact person: Linda YANG Mob No.: 86-15031760186

Sincerely invite
international distributors
to cooperate with us !
130 Non Sparking Pipe Wrench
130 Non Sparking Pipe Wrench
The 130 non sparking pipe wrench takes its present shape via a process known as drop forging. Commonly used in various hazardous areas where accidental fire or explosion might occur, this handy tool is most often seen on the pipe construction site where it is utilized to grip, assemble, or disassemble piping and cylindrical parts. With high strength and stable mechanical properties, the wrench is able to stand long time of use. Crucial parts to which stress is applied are able to withstand bending, deformation, and crack. The product is designed in conformity with the QB/T2613.10-2005 standard.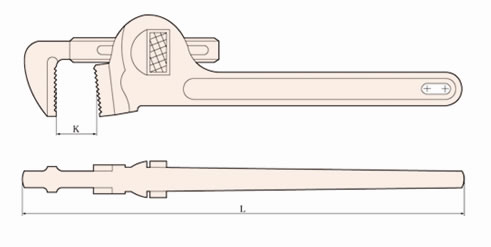 Model
L
mm
Kmax
mm
Be-Cu
g
Al-Cu
g
130-1002
200
25
420
380
130-1004
250
30
610
550
130-1006
300
40
787
750
130-1008
350
50
1155
1050
130-1010
450
60
1874
1705
130-1012
600
75
3417
3110
130-1014
900
125
6336
5765
130-1016
1200
150
12560
11350
Related Names
Non-spark Pipe Spanner Provider | Safe Pipe Fitting Changing | Factory Device