International Distributors Information

China International Hardware Show 2018
Date: 10th-12nd October,2018
Venue: No.168 Yinggang East Road, Qingpu District, Shanghai China
Booth No.: 7.2 L055
Contact person: Charles Lv Mob No.: 86-13393270117

The 124th Session Canton Fair 2018
Date: Oct 15-19th October ,2018
Venue: Pazhou Complex
Booth No.: Area C Hall 15.1 G34-35, H10-11
Contact person: Linda YANG Mob No.: 86-15031760186

Sincerely invite
international distributors
to cooperate with us !
135 Non Sparking Combination Wrench
135 Non Sparking Combination Wrench
The 135 non sparking combination wrench conforms to the German DIN3113 standard. It is designed with both a closed and open end that fit over same-sized hex or square heads of nuts or bolts. Those two gripping faces are displaced to a 15 degree angle relative to the metal handle, offering easy operation. The wrench is made of steel that has been subjected to drop forging process. Constructed for longevity, high tensile strength, and stable mechanical properties, the product is well suited for use in various flammable or explosive atmospheres.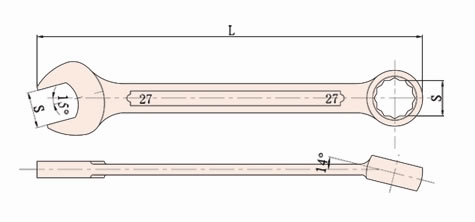 Model
S
inch
L
mm
Be-Cu
g
Al-Cu
g
135A-1002
1/4
105
22
20
135A-1004
5/16
120
37
34
135A-1006
3/8
135
55
50
135A-1008
7/16
150
75
70
135A-1010
1/2
175
125
115
135A-1012
9/16
175
122
110
135A-1014
19/32
195
160
145
135A-1016
5/8
195
155
140
135A-1018
11/16
195
155
140
135A-1020
3/4
215
210
190
135A-1022
13/16
230
225
200
135A-1024
7/8
245
250
225
135A-1026
15/16
265
260
230
135A-1028
1
265
260
230
135A-1030
1-1/16
290
420
380
135A-1032
1-1/8
320
560
500
135A-1034
1-3/16
320
560
500
135A-1036
1-1/4
340
670
600
135A-1038
1-5/16
360
850
750
135A-1040
1-3/8
360
890
800
Model
S
mm
L
mm
Be-Cu
g
Al-Cu
g
135-6
6
105
22
20
135-7
7
120
37
34
135-8
8
120
37
34
135-9
9
135
55
50
135-10
10
135
55
50
135-11
11
150
75
70
135-12
12
150
75
70
135-13
13
175
122
110
135-14
14
175
122
110
135-15
15
195
160
145
135-16
16
195
155
140
135-17
17
195
155
140
135-18
18
215
210
190
135-19
19
215
210
190
135-20
20
230
225
200
135-21
21
230
225
200
135-22
22
245
250
220
135-23
23
265
265
233
135-24
24
265
260
230
135-25
25
265
260
230
135-26
26
290
420
380
135-27
27
290
420
380
135-30
30
320
560
500
135-32
32
340
670
600
135-34
34
360
850
750
135-35
35
360
890
800
135-36
36
360
890
800
135-38
38
430
1440
1300
135-41
41
430
1440
1300
135-46
46
480
1890
1700
135-50
50
520
2220
2000
135-55
55
560
2460
2230
135-60
60
595
3300
2950
135-65
65
595
3250
2900
135-70
70
630
4550
4100
Related Names
Industrial Combination Spanner Supplier | Multifunction Double Ended Wrench | Chemical Industry Hand Tool