International Distributors Information

China International Hardware Show 2018
Date: 10th-12nd October,2018
Venue: No.168 Yinggang East Road, Qingpu District, Shanghai China
Booth No.: 7.2 L055
Contact person: Charles Lv Mob No.: 86-13393270117

The 124th Session Canton Fair 2018
Date: Oct 15-19th October ,2018
Venue: Pazhou Complex
Booth No.: Area C Hall 15.1 G34-35, H10-11
Contact person: Linda YANG Mob No.: 86-15031760186

Sincerely invite
international distributors
to cooperate with us !
232 Non Sparking Hex Flat Chisel
232 Non Sparking Hex Flat Chisel
The 232 non sparking flax chisel consists of a hex shank, leading to a sharp cutting edge on one end and a chamfered-edge pounding face on the other. During operation, a hammer is used to strike the pounding face to exert large amount of force into the workpiece via the cutting edge. Thanks to the unique chamfered-edge design, there are no flash or broken metal pieces shedding off of the pounding surface otherwise unavoidable with a sharp-edge pounding face. Six sided shank, or handle can be safely and easily stored without worrying about rolling away as such is the case with a round shank.
Made of non-sparking copper alloy that has been subjected to drop forging, the flat chisel can be used where combustible or explosive materials are present. It is durable, mechanically strong and stable.
Features
1. DIN 7254 standard compliant
2. Cutting tool with hexagonal shank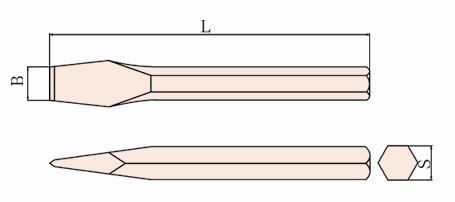 Model
S
mm
L
mm
B
mm
Be-Cu
g
Al-Cu
g
232-1002
10
150
12
98
92
232-1004
14
200
16
251
231
232-1006
16
160
18
262
242
232-1008
14
250
16
320
302
232-1010
17
300
19
772
701
232-1012
17
350
19
903
821
232-1014
22
600
24
1861
1702
232-1016
25
300
28
1204
1090
232-1018
30
500
35
2860
2620
Related Names
Multiple Size Industrial Chisel Provider | Square Hole Processing | Sparking Resistant Tool