248 Non Sparking Diagonal Pliers
248 Non Sparking Diagonal Pliers
The 248 non sparking diagonal pliers are typically intended to cut metal wires. This tool comes with a flat head that consists of two halves of beveled cutting edges. It is able to fit in small, indented space. As a commonly used tool by electricians, the pliers help in the electrical device assembly and repair. Drop-forged, non-sparking construction makes it suitable for use in various hazardous areas that fire or explosion might be experienced.
1.The company is ISO 5749 Standard compliant
2. This tool serves typically a cutting purpose.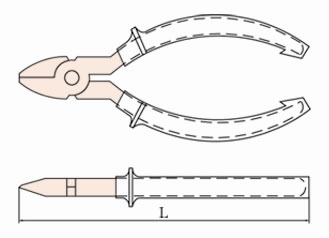 Model
L
inch
L
mm
Be-Cu
g
Al-Cu
g
248-1002
6
150
245
225
248-1004
8
200
410
365
Related Names
Spark Resistant Diagonal Cutter for Sale | Safe Wire Cutting Solution | Tool in Power Industry