International Distributors Information

China International Hardware Show 2018
Date: 10th-12nd October,2018
Venue: No.168 Yinggang East Road, Qingpu District, Shanghai China
Booth No.: 7.2 L055
Contact person: Charles Lv Mob No.: 86-13393270117

The 124th Session Canton Fair 2018
Date: Oct 15-19th October ,2018
Venue: Pazhou Complex
Booth No.: Area C Hall 15.1 G34-35, H10-11
Contact person: Linda YANG Mob No.: 86-15031760186

Sincerely invite
international distributors
to cooperate with us !
146 Non Sparking Double Open End Offset Wrench
146 Non-Sparking Double Open-End Offset Wrench
The 146 non-sparking double open-end offset wrench is die-forged from copper alloy to lend additional strength to its structure. This handy tool consists of two open-ended gripping jaws on both ends connected by a metallic handle that has wide, shallow indented cut into the surface. One primary use of our wrench is in hazardous areas that contain fire or explosion dangers, where it is employed to tighten or loosen hex or square heads of bolts and nuts. The product is surprisingly durable, long-lasting, and stable. It meets the QB/T2613.1 standard.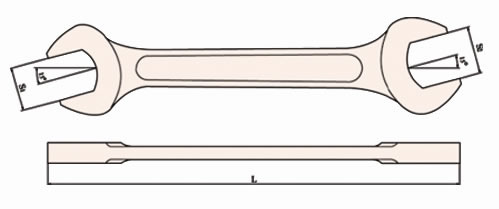 Model
S1×S2
mm
L
mm
Be-Cu
g
Al-Cu
g
146-0507
5.5×7
90
23
20
146-0607
6×7
92
25
22
146-0608
6×8
92
25
22
146-0709
7×9
96
28
25
146-0809
8×9
100
34
31
146-0810
8×10
100
34
31
146-0910
9×10
110
50
45
146-0911
9×11
110
50
45
146-1011
10×11
115
52
47
146-1012
10×12
120
60
55
146-1013
10×13
124
68
62
146-1014
10×14
124
68
62
146-1113
11×13
128
73
67
146-1213
12×13
128
73
67
146-1214
12×14
130
75
69
146-1317
13×17
140
110
100
146-1415
14×15
143
115
105
146-1417
14×17
150
120
110
146-1617
16×17
157
130
120
146-1618
16×18
163
145
130
146-1719
17×19
170
1750
135
146-1721
17×21
173
185
165
146-1722
17×22
173
185
165
146-1819
18×19
179
200
180
146-1921
19×21
182
210
190
146-1922
19×22
185
220
200
146-1924
19×24
190
235
210
146-2022
20×22
195
250
225
146-2123
21×23
200
270
235
146-2126
21×26
205
275
245
146-2224
22×24
210
312
285
146-2227
22×27
215
320
292
Model
S1×S2
mm
L
mm
Be-Cu
g
Al-Cu
g
146-2326
23×26
220
330
302
146-2426
24×26
230
345
310
146-2427
24×27
230
345
310
146-2430
24×30
233
365
330
146-2528
25×28
236
365
330
146-2629
26×29
243
465
420
146-2632
26×32
243
465
420
146-2729
27×29
250
485
430
146-2730
27×30
250
485
430
146-2732
27×32
255
600
549
146-2932
29×32
265
610
540
146-3032
30×32
265
610
540
146-3036
30×36
270
815
730
146-3234
32×34
270
815
730
146-3236
32×36
300
885
800
146-3436
34×36
300
885
800
146-3638
36×38
330
1350
1210
146-3641
36×41
330
1350
1210
146-3840
38×40
330
1350
1210
146-4146
41×46
355
1590
1430
146-4650
46×50
370
2050
1850
146-5055
50×55
385
2160
1950
146-5060
50×60
400
2488
2275
146-5560
55×60
415
2700
2450
146-6065
60×65
435
3950
3600
Related Names
Sparking Resistant Spanner Manufacturer | Industrial Spanner with Offset Handle | Mechanical Tool