International Distributors Information

China International Hardware Show 2018
Date: 10th-12nd October,2018
Venue: No.168 Yinggang East Road, Qingpu District, Shanghai China
Booth No.: 7.2 L055
Contact person: Charles Lv Mob No.: 86-13393270117

The 124th Session Canton Fair 2018
Date: Oct 15-19th October ,2018
Venue: Pazhou Complex
Booth No.: Area C Hall 15.1 G34-35, H10-11
Contact person: Linda YANG Mob No.: 86-15031760186

Sincerely invite
international distributors
to cooperate with us !
136 Non Sparking Combination Wrench
136 Non Sparking Combination Wrench
The 136 non sparking combination wrench meets the German DIN3113 standard. Its flat metallic handle allows logo to be easily printed on it. Die forged structure makes the wrench suitable for use in a variety of flammable or explosive atmospheres.
This double ended tool has one end that is like an open-end wrench and the other end like a ring spanner. Both ends fit over the hex or square heads of nuts or bolts of the same size. Those two faces of jaw are displaced at a 15 degree angle to the metallic handle. This provides for easy of operation. This series of wrench has high tensile strength and stable mechanical properties. It is durable and long-lasting.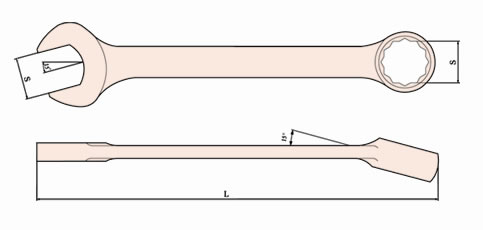 Model
S
mm
L
mm
Be-Cu
g
Al-Cu
g
136-6
6
105
18
16
136-7
7
120
40
40
136-8
8
120
40
40
136-9
9
135
45
42
136-10
10
135
45
42
136-11
11
150
65
60
136-12
12
145
65
60
136-13
13
175
90
82
136-14
14
175
90
82
136-15
15
195
140
125
136-16
16
195
140
125
136-17
17
195
140
125
136-18
18
215
180
165
136-19
19
215
180
165
136-20
20
215
180
165
136-21
21
245
280
260
136-22
22
245
280
260
136-23
23
265
320
290
136-24
24
265
320
290
136-25
25
265
500
455
136-26
26
290
500
455
136-27
27
290
500
455
136-30
30
320
700
635
136-32
32
340
780
710
136-34
34
360
1000
910
136-36
36
360
1000
910
136-38
38
430
1450
1310
136-41
41
430
1420
1190
136-46
46
480
1760
1590
136-50
50
520
2020
1830
136-55
55
560
2000
1810
136-60
60
595
2920
2640
136-65
65
595
3440
3110
136-70
70
630
4130
3730
136-75
75
630
4000
3620
136-80
80
660
5400
4880
136-85
85
660
5320
4800
136-90
90
720
7100
6410
136-95
95
720
7000
6250
136-100
100
780
8950
8100
136-110
110
780
10350
9369
136-120
120
900
12750
11560
Related Names
No-spark Combined Wrench Manufacturer | Wrench Set in Painting Industry | Easily Used Device