International Distributors Information

China International Hardware Show 2018
Date: 10th-12nd October,2018
Venue: No.168 Yinggang East Road, Qingpu District, Shanghai China
Booth No.: 7.2 L055
Contact person: Charles Lv Mob No.: 86-13393270117

The 124th Session Canton Fair 2018
Date: Oct 15-19th October ,2018
Venue: Pazhou Complex
Booth No.: Area C Hall 15.1 G34-35, H10-11
Contact person: Linda YANG Mob No.: 86-15031760186

Sincerely invite
international distributors
to cooperate with us !
154 Non Sparking Box Construction Wrench with Pin
154 Non Sparking Box Construction Wrench with Drift Pin
The 154 non sparking box construction wrench features a drift pin to the tail. The wrench is bent on the enclosed end at an angle of 45 degree to allow the handle to clear adjacent bolts without interfering with them, thereby making it easier to turn the bolt. It has a long handle and sharp drift pin that saves labor-hour and provides for multiple functions.
The wrench is drop forged from copper alloy to give extra strength to the structure. Durable and long-lasting, the product shows stable mechanical performance. It conforms to the DIN837 standard.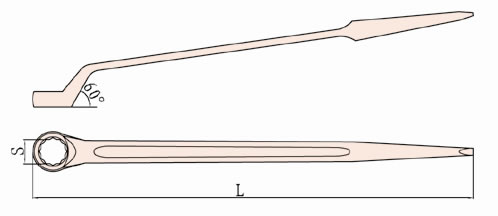 Model
S
mm
L
mm
Be-Cu
g
Al-Cu
g
154-10
10
230
90
85
154-12
12
250
110
105
154-14
14
270
145
130
154-17
17
310
200
180
154-19
19
330
250
225
154-22
22
350
320
290
154-24
24
370
400
360
154-27
27
400
500
450
154-30
30
430
700
630
154-32
32
430
700
630
154-36
36
460
960
870
154-41
41
490
1250
1130
154-46
46
520
1650
1490
154-50
50
540
2000
1810
154-55
55
560
2350
2125
154-60
60
610
2820
2550
Related Names
Sparkless Ratcheting Box Wrench Manufacturer | Mining Accident Prevention | Fastener Handling Tool